Activating us
You can call our duty engineer 24 hours a day, 7 days a week on +33 (0)2 98 33 10 10.
3 activation levels
Three activation levels according to the situation and your needs:
Level 1: the issue identified is simple. Information will be provided on the characteristics of the product(s) involved, the possible risks for responders and the impact on the environment. Technical advice on response actions will also be issued. An expert may be sent on site if required.
Level 2: the issue identified is complex. Following initial telephone conversations, our response centre is activated. At the request of the response managers, one or more technical advisers are sent on site as quickly as possible.
Level 3: the case involves major pollution. Our response centre is activated for several weeks or even months and the whole team is liable to be involved. Our technical advisers are present on site on a rota system to assist the authorities and response teams.
EMERGENCY HOTLINE 24/7 
Tel.: +33 2 98 33 10 10 - Fax: +33 2 98 44 91 38 - intervention@cedre.fr
How our response service is funded
Activations are invoiced under pre-established assistance agreements or specific contracts. The mobilisation of the duty engineer without a pre-existing agreement is free for the first few hours. Thereafter, the service is invoiced. Under an assistance agreement, three full days are included in the annual package. The cost of field assignments is the responsibility of the contracting party.
More information? Download the emergency response catalogue
More informations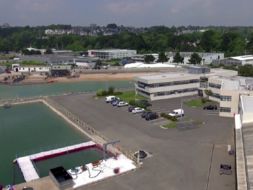 Here at Cedre, we have an array of original, including some unique, facilities and equipment to carry out our various activities.