You are at:
Training method
Our training method
The trainers at Cedre adapt their teaching to meet participants' requirements and use varied learning methods.
Training with Cedre is above all the chance to benefit from internationally recognised teaching and to practice what has been learnt. It is also the opportunity to create or expand your network of professional contacts. Our trainees are from French and overseas administrations and local government, as well as industry.
Internationally recognised teaching adapted to participants' requirements
Cedre is the only French organisation qualified to deliver all three levels of training courses on response to accidental marine pollution to International Maritime Organization standards. Our activities are also recognised by national accreditations.
The courses we offer, whether regularly scheduled courses and client-tailored coures, are adapted to meet participants' expectations as closely as possible. Specific training materials are developed for each course and distributed upon course completion.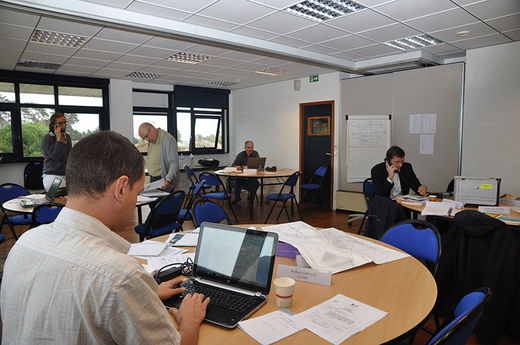 Varied learning methods
Learning, understanding, doing…
We learn more efficiently if teaching methods are varied. At Cedre, all notions presented during lectures are then put into practice.
Our courses are organised into several phases:
theory lectures delivered by Cedre personnel or by external lecturers
feedback from real incidents, thus applying a range of lectures to a real case
tutorials in small groups or tabletop exercises
in some cases, practical sessions involving equipment deployment on a real oil spill.
Cedre's trainers are trained in adult teaching methods.
Upon course completion, a USB device is given to each participant, containing all the course materials as well as additional documents (regulations, operational guides, etc.). Regularly consulting these documents will help to refresh the knowledge acquired and memorise the information.
Networking opportunities
Participants within the same group may come from different administrations, local governments, the oil industry, the shipping industry and may be of different nationalities.
Training at Cedre is therefore the opportunity to exchange ideas, points of view, experiences and contact details.
Discussions are continued during group lunches together with the trainers.
When Cedre is in charge of organising accommodation, the trainees are all booked into the same hotel, giving them the chance to continue networking over dinner or a drink.