Preparation
Information to help you choose the most suitable course and registration details.
Choosing the right course
Choose the right course for your role and check that the dates suit by reading the information sheets on each course, available via the course calendar.
Registration
Download the registration form in PDF format: print out the form, fill it in and return it to us by fax on +33. 2.98.44.91.38, by email at contact@cedre.fr or by post (all fields must be completed).
Approximately a fortnight after sending your registration form, you should receive confirmation of your registration. If the course is already full, you may be placed on the waiting list or be offered a place at a later session.
An official confirmation letter will be sent out around a month before the course start date.
Payment/training agreement
The course price is indicated in the information sheet available via the course calendar.
The invoice will be sent to the relevant department of your organisation together with the training agreement.
The "Financial terms and conditions" provide details of the payment policy.
Accommodation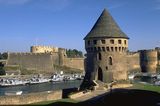 Accommodation is included in the cost of certain courses. Please see the details provided in the information sheet for the relevant course. Where accommodation is included, the confirmation letter will provide the name and address of the hotel booked by Cedre. Additional nights can be booked by Cedre and must be paid for by the client before the trainee's departure.
If accommodation is not included, Cedre can provide you with a list of hotels which offer us special rates.
Before the course
Useful information to help you prepare for your course is presented in each course information sheet:
Useful reference documents
Specific clothing required.
Getting to Cedre
See the "contact" page for details of how to get to Cedre and our opening hours.