Networks, partnerships and agreements
Cedre works in close collaboration with its public and private partners both in France and abroad.
TRANSAID
TRANSAID is a protocol designed to support the emergency services in the event of a transport accident involving hazardous substances. It is a voluntary initiative by the French chemical industry. Cedre is the TRANSAID correspondent for North-West France.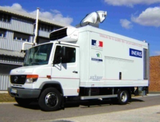 CASU
Cedre is a partner of the INERIS emergency support unit (CASU) alongside Météo France and French Customs. An assistance agreement has been concluded between Cedre and CASU in case of:
risks generated by gases
fire
explosion risks.
ICE Network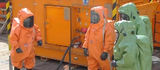 Cedre is the focal point for France for the European Chemical Industry's ICE (Intervention in Chemical transport Emergencies) Network.
Cedre acts as an intermediary between French fire brigades and foreign manufacturers/suppliers of potentially hazardous substances involved in an incident. To do so, it uses an "ICE" database providing access to manufacturers' contact details.
Furthermore, Cedre may be involved in finding a carrier qualified to transport a given substance.
MAR-ICE Network
EMSA (European Maritime Safety Agency), in cooperation with CEFIC (the European Chemical Industry Council) and Cedre, created the Mar-ICE Network in 2008.
This network provides information and advice in the event of a maritime incident involving chemicals.
Cedre is the focal point for Europe for national administrations in the event of a maritime incident involving hazardous substances (in containers and in bulk), 24 hours a day, 7 days a week.
Agreements
Cedre has signed assistance agreements with various private sector companies (oil, chemical, shipping and river transport companies). We can thus provide them with the technical advice and support they require:
for the everyday consideration of risks relating to oil and HNS
in the event of real incidents, offering rapid intervention, either remotely or on-site, and around-the-clock availability.