From Brest
A prior study is conducted based on the information provided by the client.
Documentary analysis and bibliographical research
The development of a plan always begins with a documentary analysis of the data and documents provided by the client, in particular:
The latest versions of any plans currently in force or, where no such plan exists, the existing alert and response procedures, staff charts, assistance agreements in place and the available spill response equipment.
The description of the facilities and activities to be covered by the new plan: plans and type of facilities, type of operations, quantities and types of products handled, etc.
Recent metocean, current, bathymetric and hydrological data where available.
Information on past accidents and/or any malfunctions observed liable to have caused spills.
Operating rules specific to the company, the format of plan to be adopted, obligations relating to the company's specific policies.
Relevant national legislation.
This data is supplemented by drawing upon Cedre's documentary resources.
Pollutant behaviour study
As a crucial component of contingency planning, information on the pollutant's behaviour is taken into account, either from existing data or following tests performed at Cedre using product samples provided by the client.
Cedre's laboratory can provide the following services:
Oil viscosity and density measurements
Flash point determination
Oil characterisation (fingerprinting)
Chemical characterisation
Weathering in a flume tank, with regular analysis and plotting of curves showing the product's physical and chemical evolution (dispersion, evaporation, water content, emulsion stability, flash point, density and viscosity) and tests with various dispersants at different stages of emulsification
Oil biodegradation
These tests are carried out at Cedre based on the parameters defined by the client.
Slick drift simulation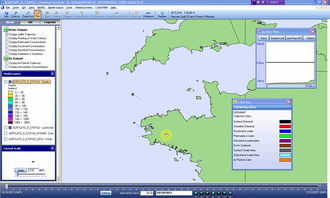 For offshore pollution, the slicks' drift and weathering can be forecast using the models available at Cedre based on:
the selected scenarios (location and type of spill – instantaneous or continuous –, type and quantities of pollutant),
statistical metocean data (wind, currents, temperatures) collected.
These forecasts are performed by experienced specialists able to interpret the results provided by the models. The results are not provided as raw model output data but rather are formatted following a critical analysis of the scenarios.