You are at:
Training rooms
Training rooms
Cedre has several training rooms, each designed for a specific teaching purpose.
A conference room, measuring 130 m², equipped with a video projector and large screen, as well as Wi-Fi internet access.
The room is completely adaptable and can accommodate up to 80 people seated (information session), 60 people seated in rows (seminar), or 30 people around tables arranged in a U-formation to promote interaction (training course).
A simultaneous interpretation system can be set up and Cedre works with a team of interpreters specialised in the field of accidental water pollution.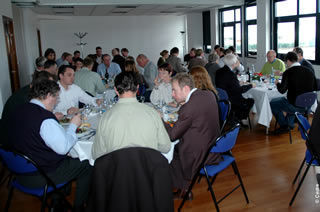 A room with a surface of 80 m² which can be divided into 3 rooms of 26 m², for group work, with a video projector and screen, as well as telephone and computer sockets.
This room can also be used for meals for participants and can hold up to around 60 people in this set-up. Cedre works with several caterers in Brest and offers several options (traditional meals with table service, pancakes, buffet…).
A training building for practical sessions involving real oil spills, including a 70 m² training room equipped with a video projector, pre-exercise "clean" changing rooms for 20 people (with toilets, showers etc.) and post-exercise "dirty" changing rooms.