You are at:
Outdoor basin
Outdoor basin
The outdoor basin is used to deploy response means on the water surface, with real oil, whether during practical training courses or to test them.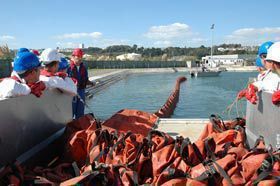 Characteristics
This basin extends over 1 900 m2 (59 m x 35 m). Its water depth generally varies between 2 and 3 m.
Three of its sides are sloping and the fourth, its breadth, is vertical. It is equipped with floating pontoons of adjustable shapes.
Usage
The basin is used for containment and recovery exercises as part of our practical training courses.
During these sessions, participants have the opportunity to deploy and fold away several types of floating booms in order to assess their advantages and limitations. They are also the chance for participants to familiarise themselves with different types of anchoring arrangements. A recovery exercise is also organised during which participants use several types of skimmers which they can compare, in a real-life situation, in terms of recovery rate, selectivity and ease of deployment.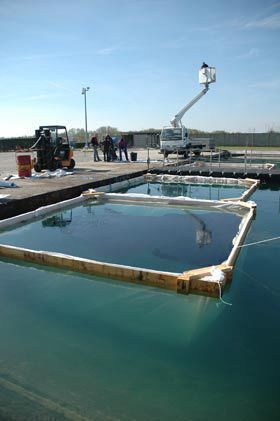 The area in which oil is released is marked by floating walkways on which the participants can walk, and more importantly from which they can use hoses to improve containment of the pollutant and direct it towards the skimmers, before spreading sorbents to complete recovery.
The open area next to the basin is used for storage tank deployment exercises.
Images of these exercises can be seen in Cedre's presentation video.
The basin is also used several times a year to test recovery means on the water surface, as part of Cedre's response equipment and technique assessment programme.
Other specific uses can regularly appear, for instance for equipment exhibitions and demonstrations in collaboration with suppliers.
During the Erika spill, heavy duty equipment for response at sea (pumps, skimmers, annular water injection…) provided in case of a leak during pumping operations on the wreck was tested on emulsified heavy fuel oil.
Daily monitoring of the monomer styrene released at the bottom of the basin in steel tanks validated the technical choice of the system used to pump the cargo out of the Ievoli Sun.