Cedre's laboratory
The laboratory is an essential analytical facility for all experimental, analysis and test activities at Cedre. It is equipped with a wide range of modern and efficient equipment.
The activities of Cedre's laboratory can be divided into two main categories:
efficiency tests conducted as part of response product validation (dispersants, sorbents and washing agents) and carried out according to standard test procedures
specific tests for experimental studies conducted by Cedre in the case of major pollution incidents. A large number of different measurements (qualitative and quantitative), mainly for hydrocarbons but also a wide variety of chemical products, can be taken using a wide range of analytical equipment.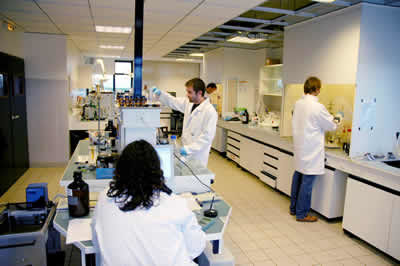 Furthermore, the laboratory can accommodate personnel from partner organisations for technical training on hydrocarbon analysis.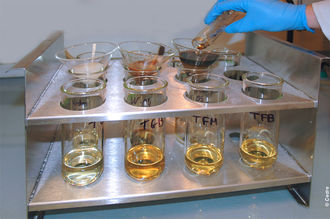 Usage
Other than testing response products, the laboratory allows specialised tests to be carried out as part of Cedre's experimental programmes. Thus, weathered oil can be characterised as soon as a sample is taken, thanks to use of the nearby flume tank.
Similarly, characterisations are conducted during recovery equipment trials to establish their efficiency (water content of oil, viscosity).
Specialised equipment (GC/MS) is also available to analyse oil samples taken in the natural environment to identify their origin. These tests can be for an operational purpose (so-called administrative testing) or a legal purpose, such as in the case of the pollution caused by the Prestige.
Characteristics
The main laboratory equipment includes: