Greenhouse
The greenhouse is designed to expose aquatic organisms (from marine and fresh waters) to different type of pollutants (oil or HNS) and managing environmental parameters.
Characteristics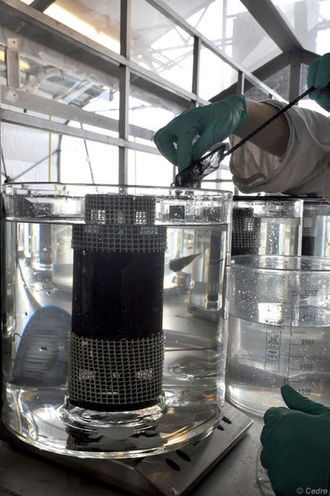 A system for the exposure of aquatic organisms was installed in a temperature-controlled greenhouse with a surface area of 160 m2.
The greenhouse in fact shelters two independent experimental devices which can continually be supplied with water (seawater and fresh water), and are equipped with an effluent water treatment system. The first is made up of four 1500 litre storing tanks to acclimatize aquatic organisms. The second is made up of 12 autonomous units (310 l each). In this tank, the reactivity of the product in relation to the aqueous environment and its impact on organisms can be studied.
Usage
The greenhouse is used to expose various organisms (crustaceans, fish….) to various types of pollutants, following specific protocols frequently established with university partners.
In collaboration with the University of Western Brittany, applied physiological studies were carried out to determine the impact of the dissolved fraction of a heavy fuel oil, similar to that of the Erika, on turbot.
When the Ievoli Sun accident occurred, the greenhouse allows to rapidly establish the kinetic of bioaccumulation and decontamination of marine organisms (crabs, oysters and mussels) contaminated by styrene.