Cedre's flume tank or Polludrome
The flume tank aims to recreate different phenomena which are liable to occur in the natural environment.
The Cedre's flume tank or Polludrome, which dates back to 1997, was totally rebuilt in 2011.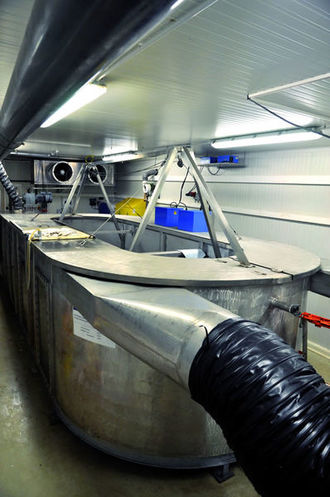 It is designed to simulate offshore, shoreline and river conditions on a pilot scale.
One of a kind due to its size, this experimental tool recreates the various phenomena liable to occur in the natural environment: wind, current, surface agitation, temperature, salinity, solar radiation…..
These simulations are mainly designed to study the behaviour of chemicals and oils during the first few hours following a spill, in particular the rate and extent of weathering. The flume tank also enables us to evaluate the efficiency of response strategies such as dispersant use to be assessed.
Characteristics
The flume tank dimensions are: width: 0.6 m, height: 1.4 m.
Simulated typical conditions are: wave height: 25 cm, frequency: 6 s, speed current 20 cm/s, wind current: 3 m/s and water volume: 7 m3 for a water depth of 90 cm.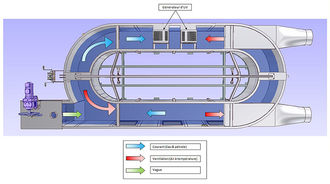 Usage
In routine as in emergency situation the "polludrome" allows, for short or middle term (few hours to few days), to predict the behaviour and fate of a petroleum product spilt at sea in various environmental conditions. So part of the product which is dispersed, evaporated, spread at the surface, or emulsified (water content and viscosity) are measured.