You are at:
Types of documents
Types of documents
The documents produced by Cedre take various forms: operational guides, manuals, guidelines, chemical response guides, technical datasheets, learning guides etc.
Operational Guides
The operational guides published by Cedre range in length from 40 to 100 pages and are mainly intended for public and private personnel in charge of spill preparedness and response. They provide general information (organisation, legal, technical aspects etc.) and practical advice to be adapted to meet the situation in hand.
Cedre is able to respond to all requests for the development of operational guides on any specific issue in our field of specialisation. We draw upon all of our organisation's knowledge and experience, consolidated since our creation in 1979, to compile documents providing an overview of specific issues to meet our clients' requirements. The topics addressed are wide-ranging: pollution monitoring, spill response techniques, response in specific environments, crisis management, guides targeting a specific audience etc.
Chemical Response Guides
These 40 to 60-page documents are a valuable source of information for emergency response to an incident involving hazardous substances liable to cause water pollution.
New or updated chemical response guides can be produced to order for a given substance produced or regularly handled by the client.
Tailor-made studies on the behaviour and toxicity of the chemical in question are carried out in order to obtain operational data which is not already available in the literature.
Cedre has specialised modellingsoftware to predict the fate of the substance at the surface or in the water column. The modelling results are presented in the chemical response guide. The resulting report provides an overview of the information required to establish a response strategy in the event of a spill of the chemical in question.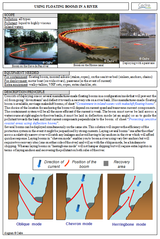 Practical datasheets
Our practical spill response datasheets are concise documents providing immediate access to operational information.
They are adapted to suit the type of facility operated by the client and the specificities of the geographical area and can, for instance, present response techniques or information on a pre-identified potential pollutant. Please contact us to discuss your specific requirements.
Learning guides
These documents are geared towards young readers and their teachers. They present the information in clear and understandable terms, meaning that they are also greatly appreciated by the general public and media, who are particularly interested in these issues in the event of a spill.
In response to requests for educational documents, Cedre can produce booklets designed as teaching materials, posters to focus on a specific topic and even websites, for a more interactive approach, featuring video clips, original animations and clickable diagrams.