You are at:
New World/Ya Mawlaya
New World/Ya Mawlaya
Name

New World/Ya Mawlaya

Accident date

21/12/1994

Location

Portugal
Accident area

200 nautical miles off Cape St. Vincent

Spill area

Offshore

Cause of spill

Collision

Nature of pollutant

heavy fuel oil

Quantity spilled

2, 500 tonnes

Ship / structure type

Tanker

Flag

Hong Kong

Owner

Appellant World Tanker Carriers Corp., Liberia
On 21 December 1994, the Hong Kong registered tanker New World was travelling from Gabon to France when it collided with the Cypriot bulk carrier Ya Mawlaya 200 miles off Cape St Vincent (Portugal).
The collision caused an explosion and a fire, in which 8 crew members were killed. The two vessels were damaged and 2,500 tonnes of heavy fuel oil were spilt at sea.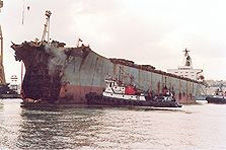 Sources:
- The OSPAR Comission