You are at:
Hyundai Fortune
Hyundai Fortune
Name

Hyundai Fortune

Accident date

21/03/2006

Location

Gulf of Aden
Accident area

≈ 100 km south of Yemen

Spill area

Offshore

Cause of spill

Explosion

Nature of pollutant

60 to 90 containers

Ship / structure type

Container ship

Built date

1996

Shipyard

Hyundai Heavy Industries Co., Ulsan, South Korea

Length

83.60 m

Draught

7.40 m

Flag

Panamanian

Owner

EMF International S.A., Panama

Manager

Hyundai Merchant Marine, Seoul, South Korea

Classification society

Korean Register of Shipping
On 21 March 2006, on its way from Asia to Europe, the Panamanian container ship Hyundai Fortune suffered a huge explosion at about 100 km south of Yemen. 60 to 90 containers were lost at sea. The explosion caused a massive blaze that spread through the stern of the ship. Secondary explosions followed as 7 containers full of fireworks also ignited.
A 12 m crack was visible on the hull and the crew evacuated the ship. Even though fire fighting operations were carried out, the fire continued to burn onboard the Hyundai Fortune for the following days. The managing company, Hyundai Merchant Marine, chartered a tug boat in order to tow the container ship to Salalah (Oman) where the salvageable part of the cargo (2,249 containers) was offloaded for transhipment to Europe.
The causes of this accident remain unknown. It could either be due to a high outside temperature or a fire that provoked a violent reaction with some of the cargo substances (calcium hypochlorite or fireworks).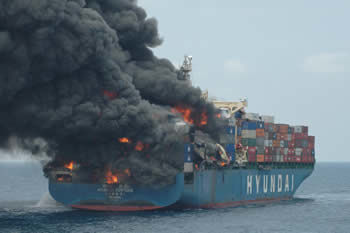 Sources:
- Cargolaw
- Wikipédia
- Fortunes de mer