You are at:
Ever Decent/Norwegian Dream
Ever Decent/Norwegian Dream
Name

Ever Decent/Norwegian Dream

Accident date

28/08/1999

Location

Great Britain
Accident area

Off Dover, England

Spill area

Offshore

Cause of spill

Collision

Nature of pollutant

Cyanide, organic lead and pesticides

Ship / structure type

Container ship

Built date

1997
On 28 August 1999, the contain ship Ever Decent collided with the ocean liner Norwegian Dream off Dover (England). Listing badly after the collision, the Ever Decent, which was carryingcyanide, organic lead and pesticides, lost some containers overboard and others on deck caught fire with the risk of both explosion and toxic pollution.

It appeared that the missing containers were eventually confirmed to contain non-hazardous substances. However the containers on fire on the deck were giving off toxic fumes. A fire-fighting crew was sent out to extinguish the fire and all operations were carried out in very careful conditions.
The presence of toxic gases was monitored to ensure the safety of the fire-fighting crew.

After surveys, the vessel was found fit to sail to Zeebrugge (Belgium) for repairs.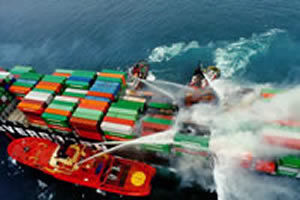 Sources :
Bonn Agreement, 1999, Chemical spills at sea: case studies, BONN 99/3/6-E
Maritime and Coastguard Agency, 2000, Information Relating to Pollution Risks in the UK