You are at:
Deepwater Horizon
Deepwater Horizon
Name

Deepwater Horizon

Accident date

20/04/2010

Location

USA
Accident area

Gulf of Mexico, 80 km off Louisiana

Spill area

Offshore

Cause of spill

Explosion

Nature of pollutant

Crude oil

Ship / structure type

Oil rig (Deep offshore)

Built date

2001

Shipyard

Hyundai Heavy Industries Shipyard, Ulsan, South Korea

Length

121.00 m

Width

78.00 m

Draught

41.00 m

Flag

Marshall Islands

Owner

Transocean Ltd

Operator

BP, Anadorko Petroleum Corporation et Mitsui
The incident
On 20 April 2010, some 80 km off the coast of Louisiana, the oil rig Deepwater Horizon (also known as Macondo/MC 125) suffered an explosion followed by a fire. 17 people were injured and 11 others reported missing. The US Coast Guard managed to swiftly evacuate 115 of the 126 people on the rig at the time of the disaster.
The rig sank two days later, and the 2,000 to 2,500 m3 of oil on the rig either burnt off or was released into the sea. A vast mobilisation of spill response equipment was rapidly organised and surveys conducted using underwater remote-operated vehicles (ROVs) showed that a reported 159 m3 of crude oil a day was leaking from the riser located 1,500 m below the surface.
A few days later, new estimations revealed that this leak could be five times larger than initially imagined. Thus, 800 m3 of the crude oil were believed to be leaking into the sea every day. Independent experts assert that the quantity of oil escaping could even be 10 times greater.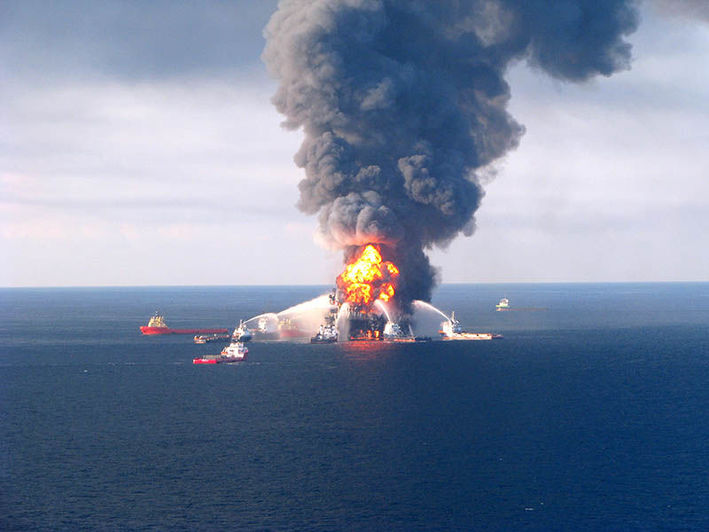 On 30 April 2010, following in the footsteps of Louisiana, it was Alabama, Florida and Mississippi's turn to declare a state of emergency. Meanwhile, the US federal government declared this pollution a "national disaster". On 2 May, US President Barack Obama flew to Louisiana to inspect response operations, in a display of solidarity for the local fishermen and coastal populations. On 22 May, he announced the implementation of an independent inquiry commission in order to shed light on the causes of the accident. On 14 and 15 May, the President Barack Obama made his fourth trip to the Gulf Coast.
The US government is taking an active role in actions undertaken by BP. The Department of Energy has engaged some of the most brilliant scientists and engineers from different laboratories in New Mexico and California.
On 12 July 2010, the US Government introduced a 6-month moratorium (until 30 November) on deepwater drilling. It was to be lifted once a set of rules reinforcing safety measures on oil rigs had been established. The moratorium was lifted earlier than expected on 12 October.
In early August, the scientific team placed by the US authorities in charge of assessing the quantity of oil spilt by the leaking well announced their initial estimation: 779,000 m3 of oil had been spilt, of which 16% had been recovered as it leaked from the well.
The leak was stopped in mid-July 2010 and the well definitively plugged on 19 September.
On 1st December 2010, the administration announced a ban on gas and oil drilling in currently unexploited areas (central and southern Atlantic coast, east of the Gulf of Mexico) until 2017.
On 11 January 2011, upon President Obama's initiative, the National Commission in charge of investigating the causes of the explosion presented its conclusions. It pointed to the decisions made by BP, Halliburton and Transocean, as well as the US authorities' practices in terms of oil rig control.