You are at:
Co-op Venture
Co-op Venture
Name

Co-op Venture

Accident date

25/07/2002

Location

Japan
Accident area

Shibushi Bay, 1.6 km off Osaki

Spill area

Inshore

Cause of spill

Grounding

Quantity transported

958 m3

Nature of pollutant

bunker fuel and corn

Quantity spilled

958 m3

Ship / structure type

Cargo vessel

Built date

1990

Shipyard

Sasebo Heavy Industries co., ltd., Japon

Length

224.00 m

Width

18.00 m

Flag

Panamanian

Owner

Southern Pacific co., ltd., Etats-Unis

Manager

Tshudi and Eitzen Ship Management pte, ltd., Singapour
On 25 July 2002, due to a typhoon the Panamanian cargo vessel Co-op Venture, transporting a cargo of corn, ran aground in Shibushi Bay, 1.6 km off Osaki (Japan). During this accident, the ship sustained a split hull and has been stranded ever since.
The bunker fuel oil dispersion was promoted by rough conditions but a few hours after the grounding, containment devices were set up. Clean-up operations were rapidly planned and they took place on the Japanese coastline from 30 July to 1 August with 550 persons.
Pumping operations were performed effectively from 4 to 15 August and 70 % of the bunker fuel was recovered. Hydrogen sulphide emanations resulting from the corn decomposition caused the death of 4 people. Until 27 December, the remains of the Co-op Venture were salvaged with a crane ship.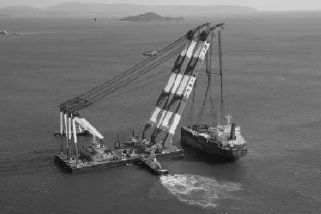 Sources:
- MAMACA E., GIRIN M., LE FLOCH S. and EL ZIR R., 2009, Are HNS spills more dangerous than oil spills? A white paper for the Interspill 2009 Conference and the 4th IMO R&D Forum, Marseille, France, May 2009, p. 60
- OMI, 2005, Casualty statistics and investigations - Very serious and serious casualties for the year 2002
- Japan Coast Guard, 2003, Co-op Venture incident and its response