You are at:
Borodinskoye Polye
Borodinskoye Polye
Name

Borodinskoye Polye

Accident date

17/11/1993

Location

Scotland
Accident area

Lerwick, Shetlands

Spill area

Offshore

Cause of spill

Grounding

Quantity transported

216, 000 tonnes

Nature of pollutant

bunker fuel

Quantity spilled

370 tonnes

Ship / structure type

Fishing vessel

Built date

1982

Shipyard

Veb Volkswerft Stralsund

Length

101.45 m

Width

15.22 m

Draught

9.71 m

Flag

Russian

Owner

Zaprybpromrazvedka
The Russian fishing vessel the Borodinstoye Polye ran aground in strong seas about 2 km from Lerwick harbour in the North Sea on 17 November 1993.
All her 73 crew members were safely evacuated. 36 were airlifted by a coastguard rescue helicopter and the others were taken on a lifeboat. The vessel's tanks were damaged and 370 tonnes of fuel spilled. The remaining fuel was transferred to another vessel. This operation ended on 28 November.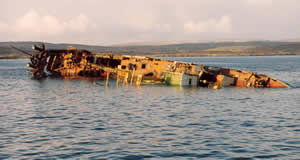 Sources:
- HOOKE, Norman, 1997, Maritime Casualties 1963-1996, second edition, LLP Limited, Londres
- Parliament of UK
External links
Shetland Islands Council, Civil contingencies planning from a Shetland perspective, J. Taylor, Emergency planning officer